We are a diverse group of about 300 families, young of age as well as young of heart, who enjoy each others' company as part of the Marlborough Congregational Church family.
Our church is a fellowship of kindred spirits. We are united by a great conviction and a greater purpose: The conviction that God is eager to share the road of life with us. The purpose is to build community life more like unto the Kingdom of God.
Our church is a living Church. We place the emphasis where Jesus places it – on ministering to others and on the fineness of personal life. Our church is a Church of the spirit. It puts people first. We are people who seek to know the highest, and then humbly but fearlessly seek to follow the light as God gives us the ability to see the light.
We know that no matter who we are or where we are on life's journey, we can share ourselves with one another in the joyful adventure that is our church family.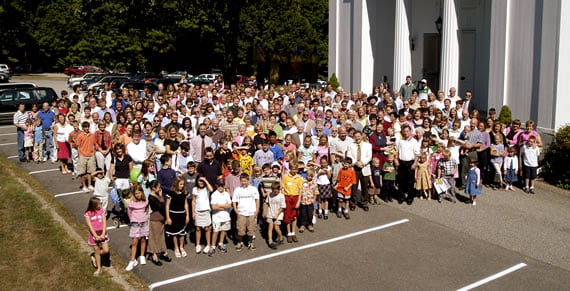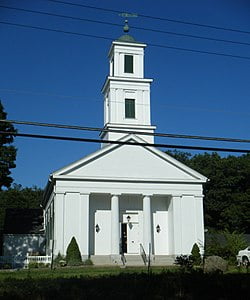 The Marlborough Congregational Church stands near the southern fringe of the village center of Marlborough, at the junction of South Main Street and Johnson Road. Set on a rise facing north, it is a single-story wood-frame structure, with a gabled roof. Its main facade has a recessed central area, in which a wide double door provides entrance to the building. This is set behind a pair of fluted Doric columns, and the recess is framed by pilasters at either end, as are the corners of the building. The pilasters and pillars support a simple entablature that extends along the sides of the building, above which is a fully pedimented gable pediment. A three-stage square tower rises above the entrance, the upper two stages with louvered centers and corner pilasters, with a shallow dome and weathervane at the top.[2]
The town of Marlborough was incorporated in 1803 from territory taken from surrounding towns. Its congregational society was established in 1747, with the construction of a meetinghouse. By the 1830s, that building was too small for the congregation, and the present building was constructed in 1842 with funds raised by subscription. Although Connecticut had formally required separation of church and civic functions in 1818, the church continued to be used for local town meetings into the 20th century, because it was the only building in the small community with large enough seating capacity. In addition to hosting religious services, the building has been the site of community meetings and social events.[